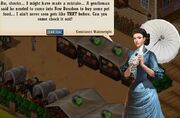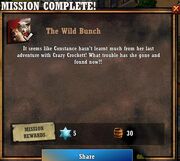 In "The Wild Bunch" mission, Miss Wainwright in New Bourbon lets some strangers into the town. It turns out that it is Crazy A. Crockett and his animals, and Ms. W. wants you to get rid of them.
Mission Objectives:
Defeat Crazy A. Crockett in New Bourbon
Kill 7 Wolves (Hard) in New Bourbon
Kill 7 Bears (Hard) in New Bourbon
Mission Rewards:
Ad blocker interference detected!
Wikia is a free-to-use site that makes money from advertising. We have a modified experience for viewers using ad blockers

Wikia is not accessible if you've made further modifications. Remove the custom ad blocker rule(s) and the page will load as expected.