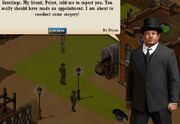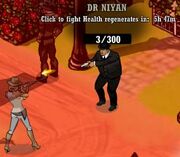 Dr. Niyan (stylized Dr Niyan) is one of the 10 assassins in Gangs of Boomtown. He is Ranked #4 out of the 10 assassins.
Dr. Niyan is found in New Bourbon.
"Hurry up, chop chop!"
"Are you kidding?"
"Very good"
"Barely winged me"
"Aim for the heart"
Dr. Niyan appears to look very similar to the James Bond villian Odd Job.
Ad blocker interference detected!
Wikia is a free-to-use site that makes money from advertising. We have a modified experience for viewers using ad blockers

Wikia is not accessible if you've made further modifications. Remove the custom ad blocker rule(s) and the page will load as expected.